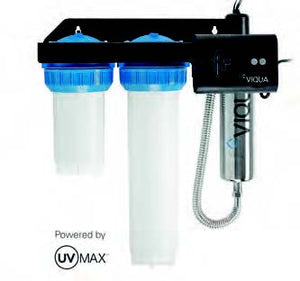 VIQUA IHS12 Ultra Violet Integrated Home System Powered by UVMax™ 12 GPM
Regular price $1,225.00 $998.00 Sale
The VIQUA Integrated Home System, Powered by UVMax, adds integral pre-filtration to the VIQUA-D4
UV disinfection unit. The IHS12 system includes 10" and 20" filter housings with high-flow 5 micron
sediment and taste/odor cartridges.
The system is mounted on a heavy-duty, painted steel bracket for ease of installation. The systems include High Output Lamps that provide high UV power output, ideal for medium to high flow applications, which gives 2X greater UV-C output vs. standard low pressure lamp technology. A
Constant Current feature ensures stable UV lamp current regardless of power fluctuations.
All the models include EOL (End of Life) Timer - a helpful lamp replacement reminder that counts down the days to annual lamp replacement and a LED Status Monitor. The LED indicator lights show the status of system components. Warning lights appear when system maintenance is required.
Product ships from different Warehouses depending on buyer location.
We are a full service water treatment dealer.
Give us a call for help in the proper application of equipment and media.
We Have The Water Treatment Solution for You!!!!!!!
Give Us A Call!!!!
   336-430-9304