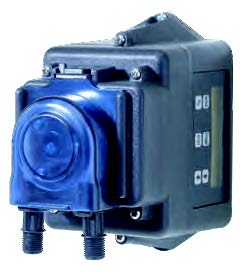 Stenner Econ FP Series Chemical Injection Pump 30 gpd
Regular price $312.00 Sale
The ECON FP is a pump that can respond to flow input from a variety of water conditioning equipment. It can accept a dry contact (non-voltage) signal from a water meter and will run for the operating time that is set.
There are five operating time ranges: 0.1-1 second, 0.5-5 seconds, 1-10 seconds, 2-20 seconds and 6-60 seconds and the times are adjustable from 10% to 100%. The pump
can accept a dry (non-voltage) contact from a flow switch and will run at a set speed for as long as it
receives the dry contact. The Econ FP can also accept a 24 VAC signal from a water softener or other type of control equipment that responds to water flow.
Product ships from different Warehouses depending on buyer location.
We are a full service water treatment dealer.
Give us a call for help in the proper application of equipment and media.
We Have The Water Treatment Solution for You!!!!!!!
Give Us A Call!!!!
   336-430-9304