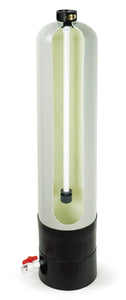 Retention Tank 120 Gal. Comparable, Fiberglass Wound, Blow Off Valve, Chem.Feed
Regular price $598.00 Sale
APW 120 gallon Comparable Retention Tank
A unique system with 2 built in mixing chambers and a swirl chamber that reduce a drop of water to hundreds of micro bubbles allowing the chemical to mix and react 5 times faster than a standard retention tank. This concept allows for the overall size of the tank system to be reduced substantially. Allowing retention tanks to be used in spaces inaccessible for a standard 120 gallon tank.
In  a Product Testing Laboratory study performed by the WQA Water Quality Association, the 12" system outperforms a 120 gallon standard retention tank. 
This tank ships UPS instead of Freight like a standard 120 gal retention tank, Saving MONEY!
Actual tank dimensions: 12" X 54" 
Blow off Valve: 3/4"
Inlet/outlet :  1" 
Maximum operating pressure: 150 psi
Seamless inner shell molded of FDA and/or NSF grade polyethylene provides impact and corrosion resistance.
Other Sizes Available!  Please Give Us a Call!

IMPORTANT - Polyglass tanks are designed to withstand pressure but they will collapse if subjected to a vacuum. A vacuum breaker is always recommended to be installed to prevent tank damage.
 ** THIS IS NOT A PRESSURE BLADDER TANK!!!.
Product ships from different Warehouses depending on buyer location.
We are a full service water treatment dealer.
Give us a call for help in the proper application of equipment and media.
We Have The Water Treatment Solution for You!!!!!!!
Give Us A Call!!!!
 336-430-9304