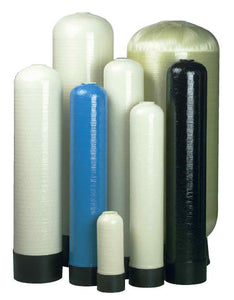 Polyglass Media / Mineral Tank, Water Softener or Filter 10"x 54" , Charcoal, 1.5 cu. ft. **Free Shipping**
Regular price $135.00 Sale
Structural Mineral Tanks
This 10x54 tank is for 1.5 cu ft of media. Softener, Iron filter, carbon, sediment among other applications. 
Pentair Structural Brand tanks are the best in the business.
Structural Mineral Tank Warranty
All Polyglass™ and FRP residential fiberglass tanks form 6" - 13" are warranted to be free from defects in materials and workmanship for a period of 10 years from the date of manufacture if the vessel is operated within to prescribed Pressure and Temperature ratings stated on the tank label.
In the event of a warranted failure Structural North America will replace the product free of charge.
* Other colors available at additional cost.
Free shipping to lower 48 states.
Product ships from different Warehouses depending on buyer location.
We are a full service water treatment dealer.
Give us a call for help in the proper application of equipment and media.
We Have The Water Treatment Solution for You!!!!!!!
Give Us A Call!!!!
   336-430-9304