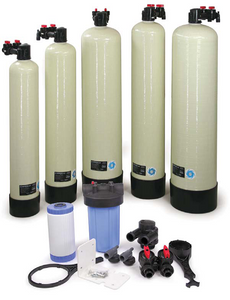 Acid Neutralizer 1 cu. ft. , Up Flow Valve with bypass, Calcite Media. Free Shipping!!
Regular price $990.00 Sale
The Up Flow Acid Neutralizing Filter System includes everything you need to correct pH levels. This system features an In/Out Up flow Valve for superior up flow filtration, a corrosion-resistant fiberglass reinforced tank, and includes 1 cu ft of Calcite Media.
We offer custom blends of FloMag/Corosex magnesium oxide blends for pH below 6.0. Call for pricing and proper application.
An Acid Neutralizer is almost always followed by a water softener due to the "hardness" added by the sacrificial media. ( as the media dissolves it increases the hardness in the water )  The lower your pH the greater the hardness increase in your water. In most cases a Water Softener will be required.
Free Shipping to most lower 48 states. Call for details.
Product ships from different Warehouses depending on buyer location.
We are a full service water treatment dealer.
Give us a call for help in the proper application of equipment and media.
We Have The Water Treatment Solution for You!!!!!!!
Give Us A Call!!!!
   336-430-9304